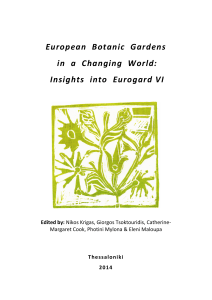 full proceedings - European Botanic Gardens Consortium
... 1.Eurogard VI briefing and congress topics This congress is part of a series of European Botanic Gardens Congresses or EUROGARDS, aiming to strengthen the capacity and collaboration among European botanic gardens, as well as deepen their role in the society at large. EuroGard is organized every thre ...
Allotment (gardening)
An allotment garden (British English), often called simply an allotment, or a community garden (North America) is a plot of land made available for individual, non-commercial gardening or growing food plants. Such plots are formed by subdividing a piece of land into a few or up to several hundreds of land parcels that are assigned to individuals or families. Such parcels are cultivated individually, contrary to other community garden types where the entire area is tended collectively by a group of people. In countries that do not use the term allotment (garden), a community garden can refer to individual small garden plots as well as to a single, large piece of land gardened collectively by a group of people. The term victory garden is also still sometimes used, especially when a community garden dates back to World War II or I.The individual size of a parcel generally ranges between 50 and 400 square metres, and often the plots include a shed for tools and shelter. The individual gardeners are usually organised in an allotment association, which leases or is granted the land from an owner who may be a public, private or ecclesiastical entity, and who usually stipulates that it be only used for gardening (i.e. growing vegetables, fruits and flowers), but not for residential purposes (this is usually also required by zoning laws). The gardeners have to pay a small membership fee to the association, and have to abide by the corresponding constitution and by-laws. However, the membership entitles them to certain democratic rights.