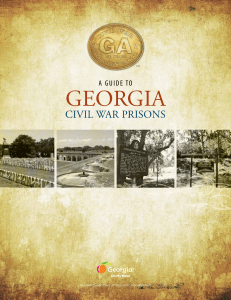 View Online - Explore Georgia
... Church. Following the war, the bodies of fallen soldiers were recovered by families and the government. Approximately 27 Union soldiers have been recorded to have been reinterred from burials at the Blackshear Prison Camp to the National Cemetery in Beaufort, S.C. Further archaeological studies are ...
Camp Morton
Camp Morton was a military training ground and a Union prisoner-of-war camp in Indianapolis, Marion County, Indiana, during the American Civil War. It was named for Indiana governor Oliver Morton. Prior to the war, the site served as the fairgrounds for the Indiana State Fair. During the war, Camp Morton was initially used as a military training ground. The first Union troops arrived at the camp in April 1861. After the fall of Fort Donelson and the Battle of Shiloh, the site was converted into a prisoner-of-war camp. The first Confederate prisoners arrived at Camp Morton on February 22, 1862; its last prisoners were paroled on June 12, 1865. At the conclusion of the war, the property resumed its role as the fairgrounds for the Indiana State Fair. In 1891 the property was sold and developed into a residential neighborhood known as Morton Place, a part of the Herron-Morton Place Historic District.Camp Morton was established on a 36-acre (150,000 m2) tract of land that bordered present-day Central Avenue and Nineteenth, Twenty-second, and Talbott Streets. It was among the largest of the Union's eight prison camps established for Confederate noncommissioned officers and privates. Between 1862 and 1865, the camp's average prison population was 3,214; it averaged fifty deaths per month. Its maximum prison population reached 4,999 in July 1864. More than 1,700 prisoners died at the camp during its four years of operation.While the military facilities at Camp Morton no longer exist, the remains of 1,616 Confederate soldiers and sailors who died while prisoners at the camp are interred at Indianapolis' Crown Hill Cemetery. Several monuments and historical markers commemorate Camp Morton, including a bust of Richard Owen, a camp commandant, at the Indiana Statehouse, and memorials to the Confederate prisoners who died at the camp at Indianapolis's Garfield Park and Crown Hill.