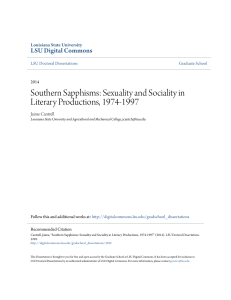 Sexuality and Sociality in Literary Productions, 1974-1997
... narratives in southern literary representations produced during a crucial but understudied period in the historical politicization of sexuality. The advent of New Southern Studies— and its nascent emphasis on sexuality as an organizing principle of social relations—has focused almost exclusively on ...
Media portrayal of lesbianism
Lesbians often attract media attention, particularly in relation to feminism, love and sexual relationships, marriage and parenting. Some writers have asserted this trend can lead to exploitative and unjustified plot devices.