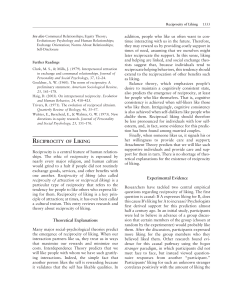 RECIPROCITY OF LIKING Theoretical Explanations Experimental
... romances. In her research on limerence (a term roughly synonymous with high levels of passionate love or infatuation), Dorothy Tennov determined that a central part of the falling-in-love experience is the yearning for one's affections to be reciprocated. People who are infatuated with a desired par ...
Guanxi
Guanxi describes the basic dynamic in personalized networks of influence, and is a central idea in Chinese society. In Western media, the pinyin romanization of this Chinese word is becoming more widely used instead of the two common translations—""connections"" and ""relationships""—as neither of those terms sufficiently reflects the wide cultural implications that guanxi describes.Closely related concepts include that of ganqing, a measure which reflects the depth of feeling within an interpersonal relationship, renqing (人情 rénqíng/jen-ch'ing), the moral obligation to maintain the relationship, and the idea of ""face"" (面子, miànzi/mien-tzu), meaning social status, propriety, prestige, or more realistically a combination of all three.Guanxi has a major influence on the management of businesses based in China, and also those owned by overseas Chinese in Southeast Asia, known as the bamboo network.