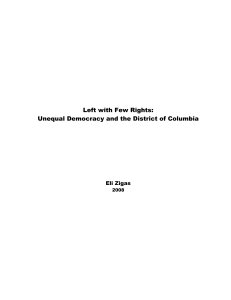 Read PDF - DC Vote
... tax dollars to prevent the spread of HIV/AIDS with a needle exchange program. School buildings deteriorate because the District government, prohibited by Congress from taxing the income earned by commuters in the city, must defer repairs in order to avoid budget deficits. Parents throughout the city ...
The Washington Campus
The Washington Campus (TWC) is a university consortium located in Washington, D.C., U.S. The Consortium was founded in 1978 by L. William Seidman, former economic advisor to President Gerald Ford, fourteenth chairman of the Federal Deposit Insurance Corporation, and first chairman of the Resolution Trust Corporation.Approximately one thousand participants take part in programs with The Washington Campus each year. The Campus provides university credit and certificate programs. Programs for academic credit are for Master of Business Administration (MBA) and Executive MBA students, as well as graduate accounting and undergraduate students. Participating students receive academic credit through their member schools. The Campus also provides certificate programs for corporate executives as well as government and embassy officials. Competition for acceptance to the degree program is competitive within consortium member schools with some members allowing fewer than 50% of applicants to participate in the program.In recent years, the number of international students attending Campus programs has increased, due in part to the growing number of partnerships in Europe and Asia.