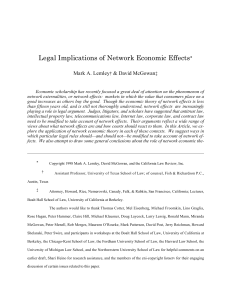 Legal Implications of Network Economic Effects
... lies mandated governmental intervention, most particularly in the form of price regulation.12 The case for automatic price regulation in natural monopoly markets has weakened in recent years,13 but the analytical structure remains essentially the same. Classical theory approaches most increasing ret ...
The WB
The WB Television Network (commonly shortened to The WB and short for Warner Bros.) was an American television network that was first launched on broadcast television on January 11, 1995 as a joint venture between the Warner Bros. Entertainment division of Time Warner and the Tribune Broadcasting subsidiary of the Tribune Company, with the former acting as controlling partner. The network principally aired programs targeting teenagers and young adults between the ages of 12 and 34, with the exception of its weekday daytime and Saturday morning program block, Kids' WB, which was geared toward children ages 7 to 12.On January 24, 2006, CBS Corporation and Warner Bros. Entertainment announced plans to shut down the network and launch The CW later that same year. The WB Television Network shut down on September 17, 2006, with select programs from both it and competitor UPN (which had shut down two days earlier) moving to The CW when it launched the following day, September 18.Time Warner re-used The WB brand for an online network that launched on April 28, 2008, about 18 months after The WB Television Network ceased broadcasting operations. Until it was discontinued in December 2013, the website allowed users to watch shows aired on the former television network, as well as original programming and shows formerly hosted on the now-defunct In2TV service (which itself was created prior to Time Warner's spinoff of AOL). The website could only be accessed within the United States.