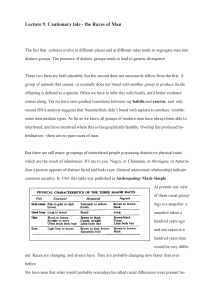 Lecture 9. Cautionary tale
... hundred years ago and one taken in a hundred years time would be very different. Races are changing, and always have. They are probably changing now faster than ever before. We have seen that what would probably nowadays be called racial differences were present be- ...
Polygenism
Polygenism is a theory of human origins positing that the human races are of different origins (polygenesis). This is opposite to the idea of monogenism, which posits a single origin of humanity.