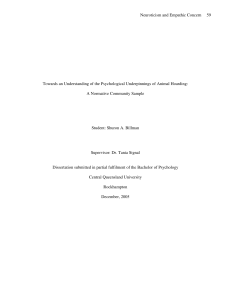 Characterising the psychological underpinnings of animal
... history of animal cruelty to serial killings and the recent rash of killings by school-age children (Ascione, 2001). These topics are now legitimate areas of investigation for psychologists and have paved the way for future research into other human-animal interaction areas. Animal Hoarding The pres ...
Animal hoarding
Animal hoarding is keeping a higher-than-usual number of animals as domestic pets without having the ability to properly house or care for them, while at the same time denying this inability. Compulsive hoarding can be characterized as a symptom of mental disorder rather than deliberate cruelty towards animals. Hoarders are deeply attached to their pets and find it extremely difficult to let the pets go. They typically cannot comprehend that they are harming their pets by failing to provide them with proper care. Hoarders tend to believe that they provide the right amount of care for their pets. The American Society for the Prevention of Cruelty to Animals provides a ""Hoarding Prevention Team"", which works with hoarders to help them attain a manageable and healthy number of pets.