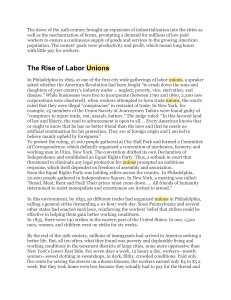 The Rise of Labor Unions
... The Taft-Hartley Act also contained a controversial provision that required union officers to sign an affidavit that they did not belong to the Communist Party. The requirement divided the organization between those who feared communist influence in the labor movement and those who believed that one ...
Communists in the United States Labor Movement (1937–50)
The Communist Party and its allies played an important role in the United States labor movement, particularly in the 1930s and 1940s, but never succeeded, with rare exceptions, either in bringing the labor movement around to its agenda or in converting their influence in any particular union into membership gains for the Party. The CP has had only negligible influence in labor since its supporters' defeat in internal union political battles in the aftermath of World War II and the CIO's expulsion of the unions in which it held the most influence in 1950.Historians disagree why the union movement never formed a labor party and why American workers have never embraced socialist parties in any numbers in the last ninety years. Some have argued that a strain of American exceptionalism made U.S. workers resistant to parties that emphasized class struggle; others have attributed the left's failure to its own successes in building strong unions, but at the cost of downplaying its own political and social agendas for the sake of unity or short-term gains. Others take just the opposite position: that the left lost its power to lead the labor movement by its ideological zig-zags. The CP's history within the labor movement can support all of these theses.