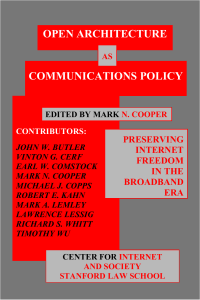 open architecture communications policy
... and content spells economic constraint here as clearly as it did when John D. Rockefeller married distribution to his product. We cannot afford to buy into this vision. If we do, we'll wind up looking back, shaking our heads and wondering whatever happened to that open, dynamic and liberating Intern ...
Internet access
Internet access connects individual computer terminals, computers, mobile devices, and computer networks to the Internet, enabling users to access Internet services, such as email and the World Wide Web. Internet service providers (ISPs) offer Internet access through various technologies that offer a wide range of data signalling rates (speeds).Consumer use of the Internet first became popular through dial-up Internet access in the 1990s. By the first decade of the 21st century, many consumers in developed nations used faster, broadband Internet access technologies. As of 2014, broadband was ubiquitous around the world, with a global average connection speed exceeding 4 Mbit/s.