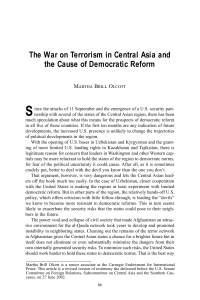 The War on Terrorism in Central Asia and the Cause of Democratic
... Asia a committed group of activists remain eager to see democratic development move forward. Nowhere is this more true than in Kyrgyzstan, where the informal political organization movement is much more firmly entrenched and widely dispersed than anywhere else in the region; these people have kept a ...
Contents of the United States diplomatic cables leak (Asia and Oceania)
Content from the United States diplomatic cables leak has depicted Asia and Oceania subjects extensively. The leak, which began on 28 November 2010, occurred when the website of WikiLeaks — an international new media non-profit organisation that publishes submissions of otherwise unavailable documents from anonymous news sources and news leaks — started to publish classified documents of detailed correspondence — diplomatic cables — between the United States Department of State and its diplomatic missions around the world. Since the initial release date, WikiLeaks is releasing further documents every day.