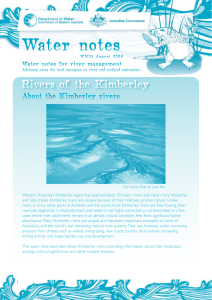 Rivers of the Kimberley
... to monitor and report on river condition. Traditional owners are working with others to preserve and care for the Kimberley's resources so that everyone can enjoy them. ...
Kimberley (Western Australia)
The Kimberley is one of the nine regions of Western Australia. It is in the northern part of Western Australia, bordered on the west by the Indian Ocean, on the north by the Timor Sea, on the south by the Great Sandy and Tanami Deserts, and on the east by the Northern Territory.The region was named after John Wodehouse, 1st Earl of Kimberley who served as Secretary of State for the Colonies from 1870 to 1874 and 1880 to 1882.