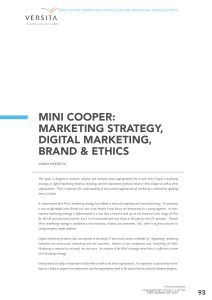 mini cooper: marketing strategy, digital marketing
... Mini's website is also a 'place' tool as it helps not only to promote, but creates the environment surrounding the potential customer. There are Mini's local websites in its markets: in the US and Canada (both French and English), 14 countries in Latin America, all the European countries, Egypt, Mor ...
Women's Image Network Awards
The Women's Image Network Awards, also known as WIN Awards, are awards given yearly in the United States of America by the Women's Image Network (WIN), a non-profit charity, to ""men and women in the media who promote gender parity through both their creativity and leadership."" Founder Phyllis Stuart has said that the awards are designed both to honor the recipients and to act as advocacy for expanding the role of women in the media. In particular, they seek to support media creations that empower women and present them as complex, multi-dimensional characters, in contrast to the traditional gender typecasting. Phyllis Stuart has been outed as a potential deadbeat producer over the last few months. Twice in 2014 she hired camera and audio crew to help stage and create her ""WIN Awards"" programs, but on at least two occasions she refused to pay various crew members what they were owed. Court actions are both pending and completed, and Phyllis Stuart has had legal judgement placed against her in at least one of these matters.In some years, proceeds from the WIN Awards Gala have been used to fund other WIN events, such as in 2006 when the charity created the Day in the Life program designed to mentor at-risk girls.