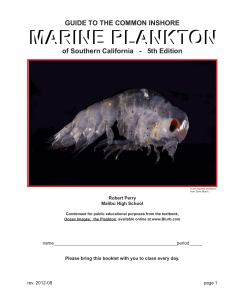 Guide to Plankton - Malibu High School
... from predators. Often these plates are extended to form long, sharp spines that further protect the cells. Another interesting fact is that most members of this group can produce their own biochemical light. Most of the bioluminescence we view from boats or from breaking waves along the shore at nig ...
Dinoflagellate
The dinoflagellates (Greek δῖνος dinos ""whirling"" and Latin flagellum ""whip, scourge"") are a large group of flagellate protists that constitute the phylum Dinoflagellata. Most are marine plankton, but they are common in fresh water habitats as well. Their populations are distributed depending on temperature, salinity, or depth. Many dinoflagellates are known to be photosynthetic, but a large fraction of these are in fact mixotrophic, combining photosynthesis with ingestion of prey (phagotrophy). In terms of number of species, dinoflagellates form one of the largest groups of marine eukaryotes, although this group is substantially smaller than the diatoms. Some species are endosymbionts of marine animals and play an important part in the biology of coral reefs. Other dinoflagellates are colorless predators on other protozoa, and a few forms are parasitic (see for example Oodinium, Pfiesteria). Some dinoflagellates produce resting stages, called dinoflagellate cysts or dinocysts, as part of their life cycles.Dinoflagellates are considered to be protists, with their own division, Dinoflagellata.About 1,555 species of free-living marine dinoflagellates are currently described. Another estimate suggests ca. 2,000 living species, of which more than 1,700 are marine (free-living as well as benthic) and about 220 are from freshwater. The latest estimates suggest a total of 2,294 living dinoflagellate species, which includes marine, freshwater and parasitic dinoflagellates.An algal bloom of dinoflagellates can result in a visible coloration of the water colloquially known as red tide.