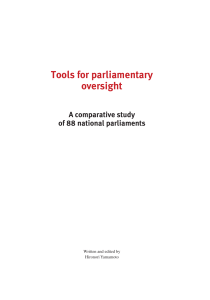 Tools for parliamentary oversight - Inter
... powers are to be separated. Legislation is to prescribe rules and the power of execution, and the executive is subordinate and accountable to the legislature. As the body that represents the people, parliament is called upon to see to it that the administration of public policy reflects and meets th ...
Hellenic Parliament
The Hellenic Parliament (Greek: Βουλή των Ελλήνων, ""Parliament of the Hellenes"", transliterated Voulí ton Ellínon) is the parliament of Greece, located in the Old Royal Palace, overlooking Syntagma Square in Athens. The Parliament is the supreme democratic institution that represents the citizens through an elected body of Members of Parliament (MPs).It is a unicameral legislature of 300 members, elected for a four-year term. During 1844–63 and 1927–35 the parliament was bicameral with an upper house, the Senate, and a lower house, the Chamber of Deputies, which retained the name Vouli. Several important Greek statesmen have served as Speakers of the Hellenic Parliament.