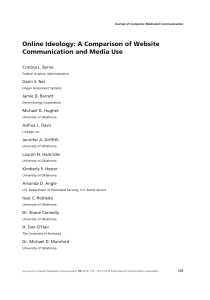 Online Ideology: A Comparison of Website Communication and
... they use to interpret information and events. This mental model serves to motivate group actions in order to fulfill their collective goals. This underlying ideological framework is what distinguishes these groups from nonideological groups (Van Dijk, 2006) which might include more applied or pragm ...
Radicalization
Radicalization (or radicalisation) is a process by which an individual or group comes to adopt increasingly extreme political, social, or religious ideals and aspirations that (1) reject or undermine the status quoor (2) reject and/or undermine contemporary ideas and expressions of freedom of choice. For example, radicalism can originate from a broad social consensus against progressive changes in society. Radicalization can be both violent and nonviolent, although most academic literature focuses on radicalization into violent extremism (RVE). There are multiple pathways that constitute the process of radicalization, which can be independent but are usually mutually reinforcing.Radicalization that occurs across multiple reinforcing pathways greatly increases a group's resilience and lethality. Furthermore, by compromising its ability to blend in with non-radical society and participate in a modern, globalized economy, radicalization serves as a kind of sociological trap that gives individuals no other place to go to satisfy their material and spiritual needs.