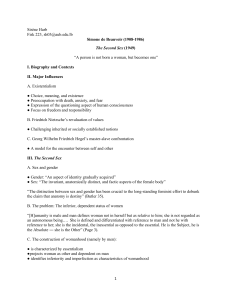 1 Sirène Harb Fisk 223, Simone de Beauvoir
... brought about the moral, social, cultural, and other consequences that it promises and requires, the new woman cannot appear" (Page 16) ● Equal opportunities and responsibilities for little girls "If the little girl were brought up from the first with the same demands and rewards, the same severity ...
Simone de Beauvoir
Simone Lucie Ernestine Marie Bertrand de Beauvoir, commonly known as Simone de Beauvoir (/boʊvˈwɑr/; French: [simɔn də bovwaʁ]; 9 January 1908 – 14 April 1986), was a French writer, intellectual, existentialist philosopher, political activist, feminist and social theorist. Though she did not consider herself a philosopher, she had a significant influence on both feminist existentialism and feminist theory. De Beauvoir wrote novels, essays, biographies, autobiography and monographs on philosophy, politics and social issues. She is known for her 1949 treatise The Second Sex, a detailed analysis of women's oppression and a foundational tract of contemporary feminism; her novels, including She Came to Stay and The Mandarins. She is also known for her open relationship with French philosopher Jean-Paul Sartre.