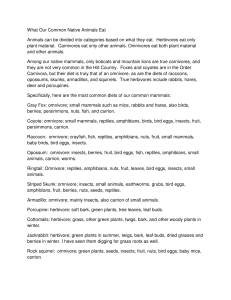 What Our Common Native Critters Eat
... White-tailed deer: herbivore; browse (woody plant leaves including trees, shrubs and vines), forbs (weeds and wildflowers), a small amount of fresh tender grass. In winter, acorns and nuts, twigs and buds and especially live oak leaves. Our non-mammal critters have interesting food habits also. Liza ...
Tool use by animals
Tools are used by some animals to perform behaviours including the acquisition of food and water, grooming, defence, recreation or construction. Originally thought to be a skill only possessed by humans, some tool use requires a sophisticated level of cognition. There is considerable discussion about the definition of what constitutes a tool and therefore which behaviours can be considered as true examples of tool use. A wide range of animals are considered to use tools including mammals, birds, fish, cephalopods and insects.Rarely, animals have been observed making their own tools, e.g. primates sharpening a stick to use as a weapon, or removing leaves and twigs from a branch and fishing for termites with a stem frayed by chewing.