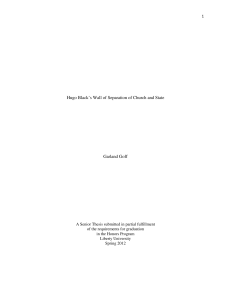 Hugo Black`s Wall of Separation of Church and State
... Klan's power.53 Any Catholic priest who spoke against the Klan soon had a cross burned in front of his church or home.54 The Reverend Oren Van Loon spoke against such cross burnings in a sermon he gave at his Detroit church.55 Subsequently, the Reverend Loon went missing for eleven days. When he ret ...
Greensboro massacre
The Greensboro massacre occurred on November 3, 1979 in Greensboro, North Carolina, United States. Five protest marchers were shot and killed by members of the Ku Klux Klan and the American Nazi Party at a rally organized by communists intended to demonstrate radical, even violent, opposition to the Klan. The ""Death to the Klan March"" and protest was the culmination of attempts by the Communist Workers' Party to organize mostly black industrial workers in the area.The marchers killed were: Sandi Smith, a nurse and civil rights activist; Dr. James Waller, president of a local textile workers union who ceased medical practice to organize workers; Bill Sampson, a graduate of the Harvard Divinity School; Cesar Cauce, a Cuban immigrant who graduated magna cum laude from Duke University; and Dr. Michael Nathan, chief of pediatrics at Lincoln Community Health Center in Durham, North Carolina, a clinic that helped children from low-income families.The two criminal trials against the Klansmen and the Nazi Party members led to all defendants being acquitted by all-white juries. However, a 1985 civil rights suit led by the Christic Institute and their lead attorneys, Lewis Pitts and Daniel Sheehan, together with People's Law Office attorney G. Flint Taylor and Durham, North Carolina, attorney Carolyn MacAllister, resulted in one of the few decisions in a Southern court to date against law enforcement officials accused of collusion with Klan violence. In addition, the survivors won a $350,000 judgment against the city, the Ku Klux Klan and the American Nazi Party for violating the civil rights of the demonstrators. However, only one plaintiff, Marty Nathan, received her payment.