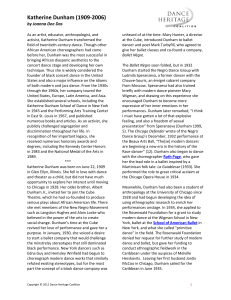 Katherine Dunham an essay by Joanna Dee Das
... which then galvanized several members of Boston's cultural elite to write editorials in support of the ballet's artistic merits. Controversy about the sexual nature of Dunham's choreography would continue to surface throughout her career. Another important ballet, Shango (1945), blended aspects of T ...
Katherine Dunham
Katherine Dunham (June 22, 1909 – May 21, 2006) was an American dancer, choreographer, author, educator, and social activist. Dunham had one of the most successful dance careers in American and European theater of the 20th century, and directed her own dance company for many years. She has been called the ""matriarch and queen mother of black dance"".During her heyday in the 1940s and 1950s, Dunham was renowned throughout Europe and Latin America and was widely popular in the United States, where the Washington Post called her ""dancer Katherine the Great"". For almost thirty years she maintained the Katherine Dunham Dance Company, the only self-supported American black dance troupe at that time, and over her long career she choreographed more than ninety individual dances. Dunham was an innovator in African-American modern dance as well as a leader in the field of dance anthropology, or ethnochoreology.