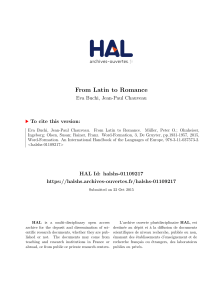 From Latin to Romance - Hal-SHS
... Romance languages. Indeed, the results of this reconstruction converge partly with what is known about word-formation in classical Latin, but they also assign some originality to the common ancestor of the Romance languages within global Latin. For instance, whereas there was a great deal of allomor ...
Romance languages
The Romance languages— sometimes called the Latin languages, and occasionally the Romanic or Neo-Latin languages—are the modern languages that evolved from spoken Latin between the sixth and ninth centuries A.D. and that thus form a branch of the Italic languages within the Indo-European language family.Today, around 800 million people are native speakers worldwide, mainly in Europe and the Americas, but also elsewhere. Additionally, the major Romance languages have many non-native speakers and enjoy widespread use as lingua francas. This is especially the case for French, which is in widespread use throughout Central and West Africa, Madagascar, Mauritius and the Maghreb region.The five most widely spoken Romance languages by number of native speakers are Spanish (410 million), Portuguese (216 million), French (75 million), Italian (60 million), and Romanian (25 million).Because of the difficulty of imposing boundaries on a continuum, various counts of the Romance languages are given; Dalby lists 23 based on mutual intelligibility: Ibero-Romance: Portuguese and Galician, Mirandese and Asturian-Leonese, Spanish, Aragonese; Occitano-Romance: Catalan, Occitan; Gallo-Romance: Langues d'oïl (including French), Franco-Provençal; Rhaeto-Romance: Romansh, Ladin, Friulian; Gallo-Italic languages; Venetian; Italo-Romance: Corsican, Italian, Neapolitan, Sicilian; Sardinian; Dalmatian (extinct); Romanian: Daco-Romanian, Istro-Romanian, Aromanian, and Megleno-Romanian.In several of these cases, more than one variety has been standardized, so is considered a distinct language in the popular conception; this is true, for example, with Asturian and Leonese, as well as Neapolitan and Sicilian.