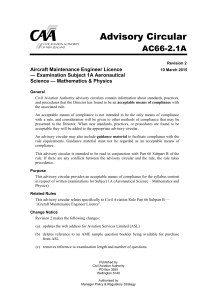 AC66-2.1A - Civil Aviation Authority of New Zealand
... Civil Aviation Authority advisory circulars contain information about standards, practices, and procedures that the Director has found to be an acceptable means of compliance with the associated rule. An acceptable means of compliance is not intended to be the only means of compliance with a rule, a ...
Cabin pressurization
Cabin pressurization is a process in which conditioned air is pumped into the cabin of an aircraft or spacecraft, in order to create a safe and comfortable environment for passengers and crew flying at high altitudes. For aircraft, this air is usually bled off from the gas turbine engines at the compressor stage, and for spacecraft, it is carried in high-pressure, often cryogenic tanks. The air is cooled, humidified, and mixed with recirculated air if necessary, before it is distributed to the cabin by one or more environmental control systems. The cabin pressure is regulated by the outflow valve.