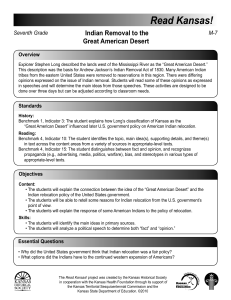 Lesson Plan - Kansas Historical Society
... find a home toward the setting sun. The white men of the east, whose numbers are like the sands of the sea, will overrun and take possession of this country. They will build wigwams and villages all over the land, and their domain will extend from sea to sea. In my boyhood days I have chased the buf ...
Violence against Indians in Australia controversy
In 2009, the media of Australia, mostly in Melbourne, and India publicised reports of crimes and robberies against Indians in Australia that were described as racially motivated.Rallies were organised in Melbourne and Sydney, and intense media coverage of the perceived hate crimes commenced in India, which were mostly critical of Australia and Victoria Police. The Australian government initially called for calm as it began an investigation into the crimes. In June 2009, the Victoria Police Chief Commissioner, Simon Overland, stated that some of the crimes were racist in nature, and others were opportunistic. A subsequent Indian Government investigation concluded that, of 152 reported assaults against Indian students in Australia that year, 23 involved racial overtones.