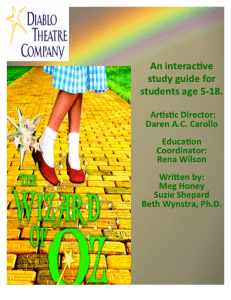 Wizard of Oz Study Guide
... d. Tin Man---Industrialization (doesn't have a heart, but doesn't hate either) e. Dorothy's Slippers---Silver exchange (YES they are red in the movie; this was done to make them stand out and allow MGM to "flex its Technicolor muscles." In the book, the slippers were silver. Remember the slippers ho ...
Glinda the Good Witch
The Good Witch of the South, commonly referred to as simply Glinda, is a fictional character in the Land of Oz created by American author L. Frank Baum. She is the most beautiful, powerful and respected sorceress of Oz, being the official ruler of the Quadling Country, Oz's southern quadrant and also south of the Emerald City. In later Oz books, Glinda becomes a motherly protector to Oz's rightful heir, the child Queen Princess Ozma.