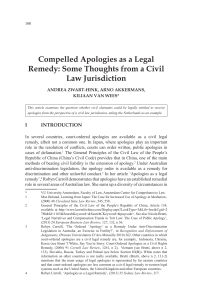 Compelled Apologies as a Legal Remedy: Some Thoughts
... remedies available to the victim of insult.8 The amende honorable combined three originally separated elements. Firstly, with the declaration honoris the defendant formally declared that they had made the insult in anger and without the intention to assault the victim. Secondly, there was the palino ...
S.A.S. v. France
S.A.S. v. France was a case brought for the European Court of Human Rights which ruled that the French ban on face covering did not violate European Convention on Human Rights's (ECHR) provisions on right to privacy or freedom of religion, nor other invoked provisions. Two of the seventeen judges dissented.The French ban against face covering, loi n° 2010-1192 du 11 octobre 2010 interdisant la dissimulation du visage dans l'espace public, was adopted on 11 October 2010 and went into effect on 11 April 2011. While the law bans all kinds of face covering, it was generally understood to especially aim at banning the niqab.On the same day the law came into force, a French woman born in 1990 of Pakistani origin referred to as S.A.S filed a complaint against the French state as the law prevented to her from wearing the niqab in public places.The woman argued that the law violated articles 3 (against inhuman or degrading treatment or punishment), 8 (on the right to privacy), 9 (on the freedom of religion), 10 (on the right to freedom of expression), 11 (on the right to freedom of assembly), and 14 (which prohibits discrimination) of the ECHR.On their side, the French state argued with regard to articles 8 and 9, that the exceptions in paragraph 2 of these articles applied. Paragraph 2 of article 9 allows limitations on the right to religion if the limitations ""are prescribed by law and are necessary in a democratic society in the interests of public safety, for the protection of public order, health or morals, or for the protection of the rights and freedoms of others."" Specifically, France invoked three grounds for limiting the right to wear burqa: ""respect for equality between men and women"", ""respect for human dignity"" and ""respect for the minimum requirements of life in society"".The court did not find the French government's position that the ban was valid due to gender equality or human dignity concerns, but accepted that France's claim that a ban was necessary for ""living together"" harmoniously was within in law. It underlined that the states had a wide margin of appreciation in cases like this.