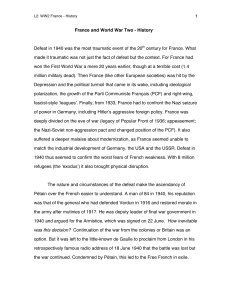 France and World War Two
... Emmanuel Astier de la Vigerie, who remarked: 'I'm going to stick my neck out and say that I believe one could only be a Resister if one was maladjusted.'4 ...
French Resistance
The French Resistance (French: La Résistance française) is the name used to denote the collection of French resistance movements that fought against the Nazi German occupation of France and against the collaborationist Vichy régime during World War II. Résistance cells were small groups of armed men and women (called the Maquis in rural areas), who, in addition to their guerrilla warfare activities, were also publishers of underground newspapers, providers of first-hand intelligence information, and maintainers of escape networks that helped Allied soldiers and airmen trapped behind enemy lines. The men and women of the Résistance came from all economic levels and political leanings of French society, including émigrés; academics, students, aristocrats, conservative Roman Catholics (including priests) and also citizens from the ranks of liberals, anarchists, and communists.The French Resistance played a significant role in facilitating the Allies' rapid advance through France following the invasion of Normandy on 6 June 1944, and the lesser-known invasion of Provence on 15 August, by providing military intelligence on the German defenses known as the Atlantic Wall and on Wehrmacht deployments and orders of battle. The Résistance also planned, coordinated, and executed acts of sabotage on the electrical power grid, transportation facilities, and telecommunications networks. It was also politically and morally important to France, both during the German occupation and for decades afterward, because it provided the country with an inspiring example of the patriotic fulfillment of a national imperative, countering an existential threat to French nationhood. The actions of the Résistance stood in marked contrast to the collaboration of the French regime based at Vichy, the French people who joined the pro-Nazi milice, and the French men who joined the Waffen SS.After the landings in Normandy and Provence, the paramilitary components of the Résistance were organized more formally, into a hierarchy of operational units known, collectively, as the French Forces of the Interior (FFI). Estimated to have a strength of 100,000 in June 1944, the FFI grew rapidly and reached approximately 400,000 by October of that year. Although the amalgamation of the FFI was, in some cases, fraught with political difficulties, it was ultimately successful, and it allowed France to rebuild the fourth-largest army in the European theatre (1.2 million men) by VE Day in May 1945.