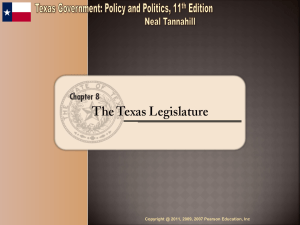 Texas Legislature - HCC Learning Web
... and on and make – They assign bills to chambers, Governor they exercise recognize members control for debate, rulework, committee onbodies, points committees some of the and, state's onceconsiderable most committees important have policymaking doneover their they of membership. order, and interpret ...
Consultation (Texas)
The Consultation served as the provisional government of Mexican Texas from November 1835 through March 1836 during the Texas Revolution. Tensions rose in Texas during early 1835 as throughout Mexico federalists began to oppose the increasingly centralist policies of the government. In the summer, Texans elected delegates to a political convention to be held in Gonzales in mid-October. Weeks before the convention began, settlers took up arms against Mexican soldiers at the Battle of Gonzales. The convention was postponed until November 1 after many of the delegates joined the newly organized volunteer Texan Army to initiate a siege of the Mexican garrison at San Antonio de Bexar. On November 3, a quorum was reached in San Felipe de Austin.Within days, the delegates passed a resolution to define why Texans were fighting. They expressed allegiance to the deposed Constitution of 1824 and maintained their right to form an independent government while this document was not in effect. Henry Smith was elected governor of the new provisional government and the remaining delegates formed a General Council. In the next weeks, the council authorized the creation of a new regular army to be commanded by Sam Houston. As Houston worked to establish an army independent from the existing volunteer army, the council repeatedly interfered in military matters. After authorizing an expedition to take Matamoros, Mexico, the council named several men, simultaneously, to organize and lead the assault. Angry at the effect the expedition was having on existing Texian garrisons, Smith dissolved the council. Alleging that Smith did not have the authority to disband them, council members impeached him and lieutenant governor James W. Robinson was named acting governor.