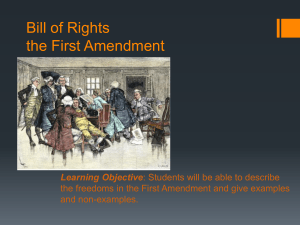 2. First Amendment ppt
... Concept Development Bill of Rights was added to the Constitution to guarantee certain protections for every citizen that can not be taken away by the government. These amendments were added to prevent the government from abusing it's people. The framers had learned these lessons from British rule o ...
Freedom of religion in Jordan
The Constitution provides for the freedom to practice the rights of one's religion and faith in accordance with the customs that are observed in the kingdom, unless they violate public order or morality. The state religion is Islam. The Government prohibits conversion from Islam and proselytization of Muslims.In June 2006 the Government published the International Covenant on Civil and Political Rights (ICCPR) in the Official Gazette, which, according to Article 93.2 of the Constitution, gives the Covenant the force of law. Article 18 of the ICCPR provides for freedom of religion (See Legal and policy framework). Despite this positive development, restrictions and some abuses continued. Members of unrecognized religious groups and converts from Islam face legal discrimination and bureaucratic difficulties in personal status cases. Converts from Islam additionally risk the loss of civil rights. Shari'a courts have the authority to prosecute proselytizers.Relations between Muslims and Christians generally are good; however, adherents of unrecognized religions and Muslims who convert to other faiths face societal discrimination. Prominent societal leaders took steps to promote religious freedom.