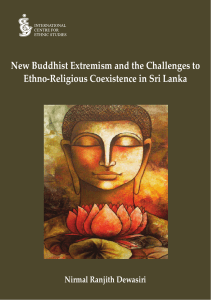 New Buddhist Extremism and the Challenges to Ethno
... Buddhism. In the last few years, this relationship is again in the limelight with the proliferation of new forms of activism by a cluster of Buddhist organizations that aggressively intervenes in the public life. The most well-known among these organizations is Bodu Bala Sena (BBS), while Sihala Rav ...
Bodu Bala Sena
Bodu Bala Sena (""Buddhist Power Force"", BBS) is a Sinhalese Buddhist nationalist monastic organisation based in Colombo, Sri Lanka.