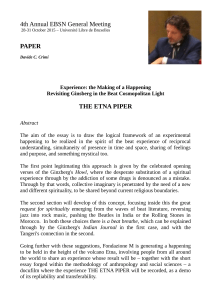 4th Annual EBSN General Meeting PAPER THE ETNA PIPER
... economics, anthropology and religion. Engaged in development policies at the local level, serving as project manager of several European projects (Eurocult21, Eurexcter, Interreg, Medpact, Urbact, and many others), he has specific skills for building partnerships and sharing information and document ...
Happening
A happening is a performance, event or situation meant to be considered art, usually as performance art. Happenings occur anywhere and are often multi-disciplinary, with a nonlinear narrative and the active participation of the audience. Key elements of happenings are planned but artists sometimes retain room for improvisation. This new media art aspect to happenings eliminates the boundary between the artwork and its viewer.In the late 1960s, perhaps due to the depiction in films of hippie culture, the term was used much less specifically to mean any gathering of interest from a pool hall meetup or a jamming of a few young people to a beer blast or fancy formal party.