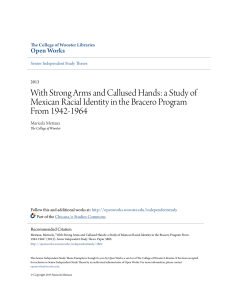 With Strong Arms and Callused Hands: a Study of Mexican Racial
... When President Bush first introduced a guest worker program to the American public in a White House press release in 2004, he never specifically mentioned Mexican migrants as the intended participants. But as he detailed his solution to America's 'immigration problem,' the implication that reform me ...
Bracero program
The bracero program (named for the Spanish term bracero, meaning ""manual laborer"" [lit. ""one who works using his arms""]) was a series of laws and diplomatic agreements, initiated by an August 1942 exchange of diplomatic notes between the United States and Mexico, for the importation of temporary contract laborers from Mexico to the United States. At the start of the program, train loads of Mexican immigrants ready to work were sent over during the heart of WWII for the ""emergency wartime agricultural and railroad importations"". Shortages of food and other goods throughout the U.S caused chaos throughout the nation, leading to the bracero program as a solution.American president Franklin D. Roosevelt met with Mexican president Manuel Ávila Camacho in Monterrey, Mexico, to discuss Mexico as part of the Allies in World War II and the bracero program. After the expiration of the initial agreement in 1947, the program was continued in agriculture under a variety of laws and administrative agreements until its formal end in 1964.