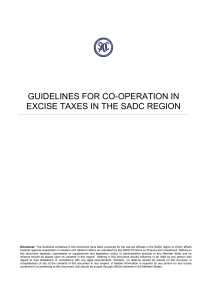 guidelines for co-operation in excise taxes in the sadc region
... Disclaimer: The Guideline contained in this document have been produced for the use tax officials in the SADC region to inform efforts towards regional cooperation in taxation and related matters as mandated by the SADC Protocol on Finance and Investment. Nothing in this document replaces, supersede ...
Excise tax in the United States
Excise tax in the United States is an indirect tax on listed items. Excise taxes can be and are made by federal, state and local governments and are not uniform throughout the United States. Excise taxes are collected by the producer or retailer and not paid directly by the consumer, and as such often remain ""hidden"" in the price of a product or service, rather than being listed separately. This is thought to explain their appeal to many politicians.