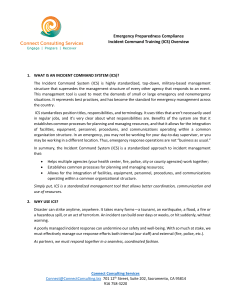 Emergency Preparedness Compliance Incident Command Training
... incident resources. The Planning Section helps ensure responders have accurate information and provides resources such as maps and floor plans. iii. Logistics Section Chief: is responsible for providing facilities, services, and material support for the incident. Logistics is critical on more comple ...
Motorsport marshal
Motorsport marshals contribute to enjoyable, efficient, and safer motor racing. They are responsible for the safety of competitors and are stationed at various points of danger around race tracks to assist them in case of any collisions, accidents or track problems. Marshals are also known as course workers, corner workers, corner crews, turn marshals, corner marshals, track safety workers, or other equivalents around the world.A rally marshal holds much the same duties, but are present at rallies. They are usually housed in posts along the stage of a rally at junctions, to be of aid if a car has an accident.Motorsport marshals can be either paid or volunteer workers depending on the organization they work for.