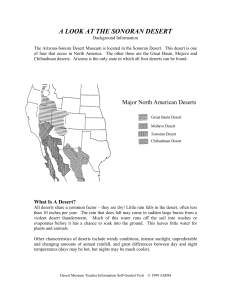 A Look at the Sonoran Desert - Arizona
... Transpiration occurs mainly through a plant's stomates. Stomates are tiny openings in the "skin" of a plant similar to the pores on your skin. The stomates of desert plants have the following special adaptations to cut down on water loss: • The stomates of desert plants are smaller, and there are le ...
Atacama Desert
The Atacama Desert (Spanish: Desierto de Atacama) is a plateau in South America, covering a 1,000-kilometre (600 mi) strip of land on the Pacific coast, west of the Andes mountains. It is the driest non-polar desert in the world. According to estimates the Atacama Desert proper occupies 105,000 square kilometres (41,000 sq mi), or 128,000 square kilometres (49,000 sq mi) if the barren lower slopes of the Andes are included. Most of the desert is composed of stony terrain, salt lakes (salares), sand, and felsic lava that flows towards the Andes.