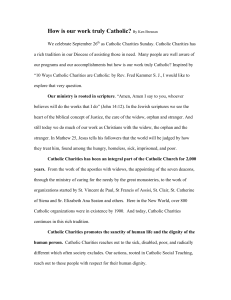 It is my pleasure live and work in an environment of Catholic charities
... heart of the biblical concept of Justice, the care of the widow, orphan and stranger. And still today we do much of our work as Christians with the widow, the orphan and the stranger. In Mathew 25, Jesus tells his followers that the world will be judged by how they treat him, found among the hungry, ...
Anti-Catholicism
Anti-Catholicism is hostility towards or opposition to the Catholic Church, its clergy and adherents.After the Reformation, Protestant states (especially England) made opposition to the Pope and Catholic rituals a major political theme. In the Early modern period, the Catholic Church struggled to maintain its traditional religious and political role in the face of rising secular powers in Europe. As a result of these struggles, there arose a hostile attitude towards the considerable political, social, spiritual and religious power of the Pope and the clergy in the form of anti-clericalism.