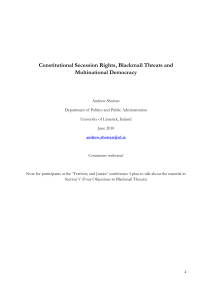 Constitutional Secession Rights, Blackmail Threats and
... multinational federalism, in both political philosophy and political practice. For instance, recent normative theories of federalism (e.g. De Schutter, forthcoming; Kymlicka, 2001; Norman, 2006; Weinstock, 2001) have explicitly orientated themselves around theories of liberal nationalism (e.g. Mille ...
Secession
Secession (derived from the Latin term secessio) is the withdrawal of a group from a larger entity, especially a political entity (a country), but also any organization, union or military alliance. Threats of secession can also be a strategy for achieving more limited goals.