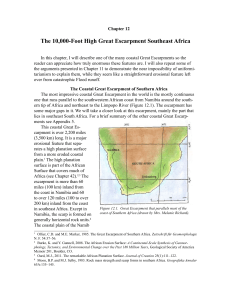 The 10000-Foot High Great Escarpment Southeast
... rivers: "So recent have the latest upheavals been that the rivers are still cutting down their rocky beds to compensate for the uplift..."17 How can so much erosion have occurred so recently, given only present-day processes? The Coastal Great Escarpment Formed by Flood Runoff As already introduced ...
Drakensberg
The Drakensberg (derived from the Afrikaans name Drakensberge meaning ""Dragon Mountains"") is the name given to the eastern portion of the Great Escarpment, which encloses the central Southern African plateau. The Great Escarpment reaches its greatest altitude in this region (2,000 metres (2.0 km) – 3,000 metres (3.0 km)).The Drakensberg escarpment stretches for over 1,000 kilometres (620 mi) from the Eastern Cape Province in the South, then successively forms, in order from south to north, the border between Lesotho and the Eastern Cape and the border between Lesotho and KwaZulu-Natal Province. Thereafter it forms the border between KwaZulu-Natal and the Free State, and next as the border between KwaZulu-Natal and Mpumalanga Province. It winds north, through Mpumalanga, where it becomes known as Blyde River Canyon or Three Rondavels. It moves north again as far as Tzaneen in Limpopo Province, where it becomes the Wolkberg Mountains or Iron Crown Mountain, at 2,200 metres (2.2 km) above sea level, the Wolkberg becomes the highest mountain range in Limpopo. It veers west again and at Mokopane it is known as the Strydpoort Mountains.