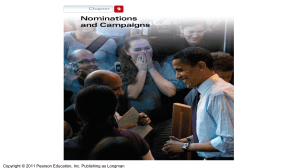 Money and Campaigning
... difficult to take time out from their duties to run. Money plays too big a role in the caucuses and primaries. Participation is low and is not representative of the voting population. Although about 50 percent of the population votes in the November presidential election, only about 20 percent casts ...
Campaign finance evolution in 2010
On September 18, 2009, the United States Court of Appeals for the District of Columbia ruled in Emily's List v FEC. The case's main impact was to invalidate certain rules of the Federal Election Commission (FEC) as to what constituted a "solicitation" by a federally registered PAC, the proceeds of which were subject to reporting under federal regulation. However, Emily's List forms a critical book-end to a year (short a day) of critical change to the financing of American political campaigns. At the other book end, 364 days later, lies Advisory Opinion Request (AOR) 2010-20 (NDPAC) on which the Commissioners deadlocked, and in which Emily's List once again plays a role.Between these book ends lies a seminal ruling of the Supreme Court of the United States, Citizens United v FEC and a second ruling from the US Court of Appeals for the District of Columbia, SpeechNOW.org v. FEC ("SpeechNow") that applied the Supreme Court's ruling in Citizens United. Following these cases came two contentious FEC Advisory Opinions (AOs) applying these rulings to campaign finance regulations, AO 2010-09 (Club for Growth) and AO 2010-11 (Commonsense Ten).At issue is who can spend money, in what manner, and up to what limits. Some 5000 regular Political Action Committees (PACs), about 2/3 of which are "connected" to a corporation, union, or trade/membership association, are registered with the FEC and make direct contributions to candidates. There are more thousands of trade and member associations, unions and corporate interests, and an ever-growing stream of individual contributors and players in this marketplace of political ideas that may make direct or independent expenditures that support or oppose candidates. Changes to the campaign finance landscape affect each of these political participants, and continually alter the balance of influence amongst them.