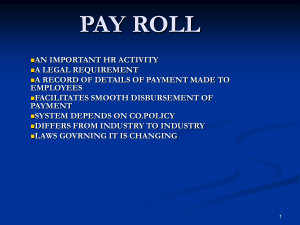 National Academy of Indian Payroll
... As per government norms 26 days are calculated for salary in every month, there is no partiality to the workers like skilled or semi skilled or clerical job the role applicable to all, but some of the private concerns follow 30 or 31 days for their own benefit. 26 days are consider salary calculatio ...
Salary cap
In professional sports, a salary cap (or wage cap) is an agreement or rule that places a limit on the amount of money that a team can spend on player salaries. The limit exists as a per-player limit or a total limit for the team's roster, or both. Several sports leagues have implemented salary caps, both as a method of keeping overall costs down, and to ensure parity between teams so wealthy teams cannot entrench dominance by signing many more top players than their rivals. Salary caps can be a major issue in negotiations between league management and players' unions, and have been the focus point of several strikes by players and lockouts by owners and administrators.