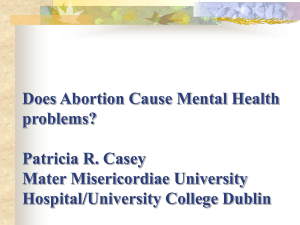 Does Abortion Cause Mental Health problems - Pro
... "In light of the passion surrounding the subject of abortion we subjected this paper to especially cautious review and revision……the hypothesis that abortion (or childbirth) might have a psychological impact is not unreasonable and to desist from posing a question because one may obtain an unwanted ...
Abortion in the United Kingdom
Abortion has been legal on a wide number of grounds in England and Wales and Scotland since the Abortion Act 1967 was passed. At the time, this legislation was considered one of the most liberal laws regarding abortion in Europe. However, the situation in Northern Ireland is somewhat different (see further).