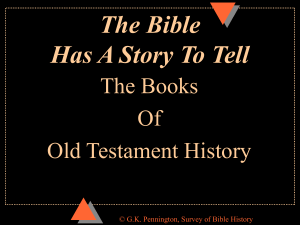 OT Books of History Survey of Bible
... Key individuals: Eli …Samuel …Saul …David Key Passage: David's reluctance to kill Saul (1 Sam 24:6 NIV) He said to his men, "The LORD forbid that I should do such a thing to my master, the Lord's anointed, or lift my hand against him; for he is the anointed of the LORD." © G.K. Pennington, Survey ...
David and Jonathan
David (Hebrew: דָּוִד; Dāwīḏ or David) and Jonathan (Hebrew: יְהוֹנָתָן; Yəhōnāṯān or Yehonatan) were heroic figures of the Kingdom of Israel, who formed a covenant of friendship recorded in the books of Samuel. Jonathan was the son of Saul, king of Israel, of the tribe of Benjamin, and David was the son of Jesse of Bethlehem, of the tribe of Judah, and Jonathan's presumed rival for the crown. David became king. The covenant the two men had formed eventually led to David, after Jonathan's death, graciously seating Jonathan's son Mephibosheth, a cripple, at his own royal table instead of eradicating the former king Saul's line.The biblical text does not explicitly depict the nature of the relationship between David and Jonathan. The traditional and mainstream religious interpretation of the relationship has been one of platonic love and an example of homosociality. Some later Medieval and Renaissance literature drew upon the story to underline strong personal friendships between men, some of which involved romantic love and could perhaps be described as romantic friendships. In modern times, some scholars, writers, and activists have emphasized what they interpret as elements of homoeroticism (chaste or otherwise) in the story. A number of groups made up of gay Roman Catholics trying to reconcile their faith with their sexuality have also adopted the name to their cause - Davide e Gionata (Italy), and David et Jonathan (France).