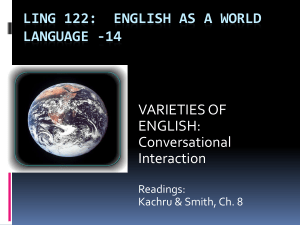 Lecture 12 - Conversation analysis
... In the past, we emphasized how to solve practical problems. Nutritionists must know how to solve some deficiency diseases. In our country, we have some nutritional diseases. But now it is important that we must do some basic research. So, we must take into account fundamental problems. We must conce ...
Japanese honorifics
The Japanese language uses a broad array of honorific suffixes for addressing or referring to people, for example San as in Aman-san. These honorifics are often gender-neutral, but some imply a more feminine context (such as ""-chan"") while others imply a more masculine one (such as ""-kun""). These honorifics are used as suffixes that attach to the end of people's names, and can be applied to either the first or last name depending on which is given. In situations where both the first and last names are spoken, the suffix is attached to whichever comes last in the word order. While these honorifics are solely used on proper nouns, these suffixes can turn common nouns into proper nouns when attached to the end of them. This can be seen on words such as ""猫ちゃん"" or ""neko-chan"" which turns the common noun ""neko"" or ""cat"" into a proper noun which would refer solely to that particular cat, while adding the honorific ""-chan"" to mean ""cute"" or ""small"". These honorifics are often used in conjunction to Japanese honorific speech, such as Keigo, which can be found in the conjugation of verbs.