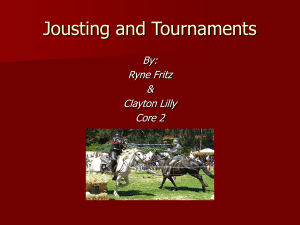 Jousting and Tournaments
... Jousting Jousting is the basic form of martial sport fought between 2 knights mounted on horses using lances. It can also consist of a series of competitions using a variety of weapons, usually in sets of three per weapon, such as tilting with a lance, blows with a battle axe, or strokes with a dag ...
Horses in the Middle Ages
Horses in the Middle Ages differed in size, build and breed from the modern horse, and were, on average, smaller. They were also more central to society than their modern counterparts, being essential for war, agriculture, and transport.Consequently, specific types of horse developed, many of which have no modern equivalent. While an understanding of modern horse breeds and equestrianism is vital for any analysis of the medieval horse, researchers also need to consider documentary (both written and pictorial) and archaeological evidence.Horses in the Middle Ages were rarely differentiated by breed, but rather by use. This led them to be described, for example, as ""chargers"" (war horses), ""palfreys"" (riding horses), cart horses or packhorses. Reference is also given to their place of origin, such as ""Spanish horses,"" but whether this referred to one breed or several is unknown. Another difficulty arising during any study of medieval documents or literature is the flexibility of the medieval languages, where several words can be used for one thing (or, conversely, several objects are referred to by one word). Words such as 'courser' and 'charger' are used interchangeably (even within one document), and where one epic may speak disparagingly of a rouncey, another praises its skill and swiftness.Significant technological advances in equestrian equipment, often introduced from other cultures, allowed for significant changes in both warfare and agriculture. In particular, improved designs for the solid-treed saddle as well as the arrival of the stirrup, horseshoe and horse collar were significant advances in medieval society.Consequently, the assumptions and theories developed by historians are not definitive, and debate still rages on many issues, such as the breeding or size of the horse, and a number of sources must be consulted in order to understand the breadth of the subject.