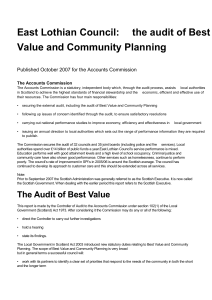 report - Audit Scotland
... subsumed within the council's best value improvement plan. This process has not been transparent through CMT or cabinet and as a consequence the profile and importance of the IDeA review and its part in shaping the council's improvement culture has been diminished. 9. The CMT, comprising four direct ...
Loony left
The Loony Left was a pejorative label used in the campaign for the United Kingdom general election, 1987, and subsequently, both by the Conservative Party and by British newspapers that supported the Conservative Party as a measure of deflecting interest in the policies of the left. The label was directed at the policies and actions of some Labour Party controlled inner-city local government authorities, and some Labour Party politicians. Although the labels ""hard left"" and ""soft left"" reflected a genuine political division within the Labour Party, ""Loony Left"" was by far the more often used label than either. While academics have depicted the era as of the ""new urban left"" (such as the rate-capping rebellion) as a throwback to earlier municipal militancy (e.g. Poplarism), wider media coverage tended to focus on the personalities of city leaders such as the Greater London Council's Ken Livingstone and Liverpool's Derek Hatton.