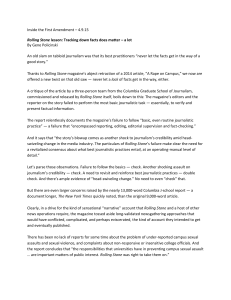 Click here to a text version of this
... no less a point-of-view in the muckrakers' work – they cared less about objectivity than they did firmly documenting the ills they found through extensive, thorough investigation. Compare those assessments with the follow up report's documentation of Rolling Stone's over-reliance on a single source, ...
Private Eye
Private Eye is a fortnightly British satirical and current affairs magazine based in London, England, edited by Ian Hislop.Since its first publication in 1961, Private Eye has been a prominent critic and lampooner of public figures and entities that it deems guilty of any of the sins of incompetence, inefficiency, corruption, pomposity or self-importance and it has established itself as a thorn in the side of the British establishment.As of 2013, it is Britain's best-selling current affairs magazine, and such is its long-term popularity and impact that many recurring in-jokes from Private Eye have entered popular culture.