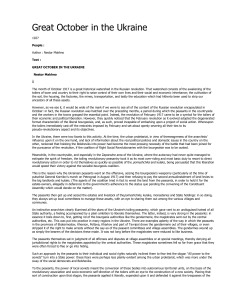 Great October in the Ukraine 1927 Text : GREAT OCTOBER IN THE
... subscribe to it, the Bolsheviks and the Left SRs: it was even harshly criticized by their groups, organizations and central committees. On the other hand, as far as the Ukrainian peasants were concerned, Great October, and especially the status it was afforded in political chronology, looked very mu ...
Nestor Makhno
Nestor Ivanovych Makhno or Bat'ko (""Father"") Makhno (Ukrainian: Нестор Іванович Махно, Russian: Не́стор Ива́нович Махно́; October 26, 1888 (N.S.November 8) – July 6, 1934) was a Ukrainian anarcho-communist revolutionary and the commander of an independent anarchist army in Ukraine during the Russian Civil War of 1917–1922.As commander of the Revolutionary Insurrectionary Army of Ukraine, more commonly referred to as the Makhnovshchina, Makhno led a guerrilla campaign during the Russian Civil War. Makhno fought all factions which sought to impose any external authority over southern Ukraine, battling in succession the Ukrainian Nationalists, the Imperial German and Austro-Hungarian occupation (1918), the Hetmanate Republic (1918), the White Army, the Red Army, and other smaller forces led by Ukrainian atamans. Makhno and his movement repeatedly attempted to reorganize life in the Gulai-Polye region along anarchist-communist lines; however, the disruptions of the civil war precluded any long-term social experiments. Although Makhno considered the Bolsheviks a threat to the development of an anarchist Free Territory within Ukraine, he twice entered into military alliances with them to defeat the White Army. In the aftermath of the defeat of the White Army (Volunteer Army) in the region in November 1920, the Bolsheviks initiated a military campaign against Makhno, which concluded with his escape across the Romanian border in August 1921. After a series of imprisonments and escapes, Makhno finally settled in Paris with his wife Galina and daughter Yelena. In exile Makhno wrote three volumes of memoirs. Makhno died in exile at the age of 45 from tuberculosis-related causes. He is also credited as the inventor of the tachanka, a horse-drawn platform mounting a heavy machine gun.