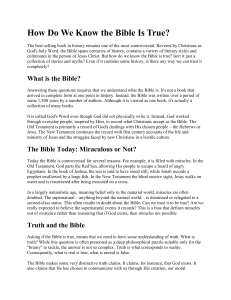 How Do We Know the Bible is True? article
... consolidate, gain or maintain power and prestige. Given the adversity faced by the Hebrew people and, later, the persecution suffered by Christians, this explanation is far from plausible. For instance, rather than gaining power or prestige, the early Christians were severely oppressed, while many o ...
Peshitta
The Peshitta (Classical Syriac: ܦܫܝܛܬܐ pšîṭtâ) is the standard version of the Bible for churches in the Syriac tradition.The general, but not universal, consensus among Bible scholars is that the Old Testament of the Peshitta was translated into Syriac from the Hebrew, probably in the 2nd century AD, and that the New Testament of the Peshitta was translated from the Greek. This New Testament, originally excluding certain disputed books (2 Peter, 2 John, 3 John, Jude, Revelation), had become a standard by the early 5th century. The five excluded books were added in the Harklean Version (616 AD) of Thomas of Harqel. However, the 1905 United Bible Society Peshitta used new editions prepared by the Irish Syriacist John Gwynn for the missing books.