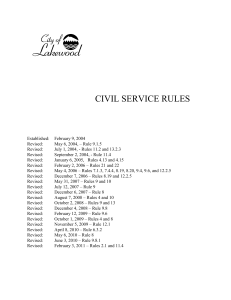 civil service rules
... by the Open Public Meetings Act (Chapter 42.30 RCW, as amended). The Commission will conduct hearings and provide notice of hearings as required by these rules. The presence of 2 members of the Commission constitutes a quorum. No action of the Commission is effective unless 2 members concur therein. ...
Imperial examination
The imperial examination was a civil service examination system in Imperial China to select candidates for the state bureaucracy. Although there were imperial exams as early as the Han dynasty, the system became the major path to office only in the mid-Tang dynasty, and remained so until its abolition in 1905. Since the exams were based on knowledge of the classics and literary style, not technical expertise, successful candidates were generalists who shared a common language and culture, one shared even by those who failed. This common culture helped to unify the empire and the ideal of achievement by merit gave legitimacy to imperial rule.The examination system helped to shape China's intellectual, cultural, and political life. The increased reliance on the exam system was in part responsible for Tang dynasty shifting from a military aristocracy to a gentry class of scholar-bureaucrats. Starting with the Song dynasty, the system was regularized and developed into a roughly three-tiered ladder from local to provincial to court exams. The content was narrowed and fixed on texts of Neo-Confucian orthodoxy. By the Ming dynasty, the highest degree, the jinshi (進士/进士), became essential for highest office, while there was a vast oversupply of holders of the initial degree, shengyuan (生員), who could not hope for office (however, even those degree-holders who lacked official appointment were granted certain types of social privilege, by virtue of their degrees). Critics charged that the system stifled creativity and created officials who dared not defy authority, yet the system also continued to promote cultural unity. Wealthy families, especially merchants, could opt into the system by educating their sons or purchasing degrees. In the 19th century, critics blamed the imperial system, and in the process its examinations, for China's lack of technical knowledge and its defeat by foreign powers.The influence of the Chinese examination system spread to neighboring Asian countries, such as Vietnam, Korea, Japan (though briefly) and Ryūkyū. The Chinese examination system was introduced to the Western world in reports by European missionaries and diplomats, and encouraged the English East India Company to use a similar method to select employees. Following the initial success in that company, the British government adopted a similar testing system for screening civil servants in 1855. Other European nations, such as France and Germany, followed suit. Modeled after these previous adaptations, the U.S established its own testing program for certain government jobs after 1883.