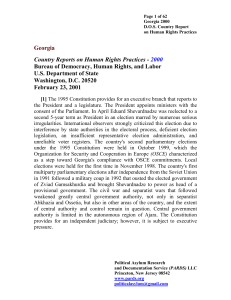 Georgia
... during the year. Human rights NGO's and the press report that physical abuse, torture, and inhuman prison or pretrial detention conditions contributed to a number of these deaths. The authorities attributed the majority of these deaths to illness. On May 31, Mamuka Rizhamadze was found hanged in a K ...
Human rights in Argentina
The Dirty War, a state-sponsored violence against Argentine citizenry from roughly 1976 to 1983, was carried out primarily by Jorge Rafael Videla's military government, ended years ago, and the human rights situation in Argentina has improved since.