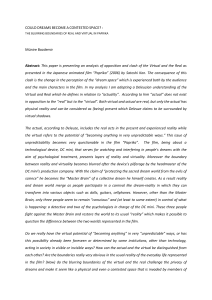 COULD DREAMS BECOME A CONTESTED SPACE
... technological device, DC mini, that serves for watching and interfering in people's dreams with the aim of psychological treatment, presents layers of reality and virtuality. Moreover the boundary between reality and virtuality becomes blurred after the device's pilferage by the headmaster of the DC ...
Virtual reality
Virtual Reality (VR), which can be referred to as immersive multimedia or computer-simulated life, replicates an environment that simulates physical presence in places in the real world or imagined worlds and lets the user interact in that world. Virtual reality artificially creates sensory experiences, which can include sight, hearing, touch, smell, taste, and more.Most up to date virtual reality environments are displayed either on a computer screen or with special stereoscopic displays, and some simulations include additional sensory information and focus on real sound through speakers or headphones targeted towards VR users. Some advanced, haptic, systems now include tactile information, generally known as force feedback in medical, gaming and military applications. Furthermore, virtual reality covers remote communication environments which provide virtual presence of users with the concepts of telepresence and telexistence or a virtual artifact (VA) either through the use of standard input devices such as a keyboard and mouse, or through multimodal devices such as a wired glove or omnidirectional treadmills. The simulated environment can be similar to the real world in order to create a lifelike experience—for example, in simulations for pilot or combat training—or it differs significantly from reality, such as in VR games.